About the Page Program
The Senate Page Program offers participants the opportunity to learn about the legislative process in Florida through a hands-on approach to civic learning. Pages will role-play as Senators, develop ideas for new laws, draft legislation, and file bills. The week culminates with a mock session in which bills are debated and voted on by Senate Pages. Additionally, Senate Pages will assist members of the Florida Senate by distributing legislative materials and correspondence in the Senate Chamber while observing the Senators as they discuss and debate legislation. Pages may also lead the Pledge of Allegiance during session, enjoy guest speakers, and participate in educational tours and activities.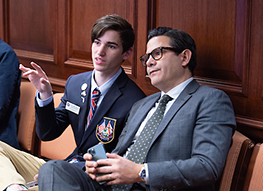 LEARN
In-depth civic learning focused on the legislative process that goes beyond textbook civics.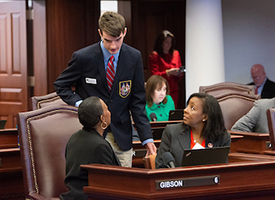 PARTICIPATE
Assist Senators in the Senate Chamber and observe legislation in action.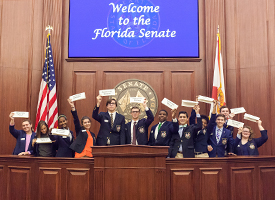 EXPERIENCE
Meet state leaders, develop ideas for new laws, gain valuable insight, and have fun.
Apply for the Page Program
Timeline
July 5, 2023
Page Program application opens
October 31, 2023
Page Program application closes
November 10, 2023
Students selected for the Page Program are notified
January 8, 2024
First week of the Page Program begins
March 8, 2024
Regular 2024 Legislative Session and Page Program ends
Eligibility
This program is for high school students (private, public, home school, or virtual school) with an interest in state government and who meet the age requirements.

Participating students must be 15 to 18 years old by the first day of their assigned week.

Preference will be given to students who have not participated before.
The 2024 Regular Legislative Session application window has closed.
Page Program Details
Senate Pages serve Monday through Friday from 8:00 a.m. until 5:00 p.m. during their assigned week. In the event Session extends past 5:00 p.m., Pages are welcome to volunteer to stay and serve.

During session Pages distribute legislative materials and correspondence in the Senate Chamber.

Every group of Pages participates in a mock session. Prior to the mock session, Pages will draft legislation, elect officials, learn about the bill filing process, and attend committee meetings.
Throughout the week, Senate Pages will engage in civic learning. Some examples of topics covered are public speaking, the amendment process, and the Florida Constitution.

Additionally, Pages will take trips outside the Capitol to participate in educational tours and activities.

Information about the legislative process and the Florida Senate is available in the 2022-2024 Senate Handbook (PDF).
Photo Gallery
Photographs are taken during the week of service and uploaded to a secure website.
Frequently Asked Questions
No. Pages are expected to provide their own transportation (to Tallahassee and during their assigned week to/from the program), housing, and meals while in Tallahassee. Information regarding lodging near the Capitol can be found at https://visittallahassee.com/stay/.
You may choose between 40 hours of community service or a $250 stipend. You may not receive both. If you choose the stipend, you will need to submit all required payroll documents. The required documents must be completed by the first day of service. If these documents are not completed, Pages will receive community service hours.
The Senate Page Program does not place restrictions on participation with the House of Representatives Page and Messenger Program. However, Senate Pages may not serve in the program during the same week they are scheduled as a participant with the House of Representatives Page and Messenger Program.
Pages are required to wear business professional attire at all times. This includes a dark navy blazer and closed toe shoes. We recommend that all Pages wear comfortable shoes. Pages will receive a Senate patch on the first day of service to attach to the left side of the blazer. If a Page arrives for work dressed inappropriately, they will be asked to change attire before resuming their duties.
While we welcome support from parents and others, some activities are limited to Page participants. Parents and guests will be directed to appropriate areas within the Capitol Complex to observe our legislative process when possible. They are welcomed to participate with tours, but must travel separately from the group.
Contact Information
Address
Office of the Senate Secretary
Suite 405 The Capitol
404 South Monroe Street
Tallahassee, Florida 32399-1100
Hours
8:00 AM - 5:00 PM Eastern Time
Monday - Friday